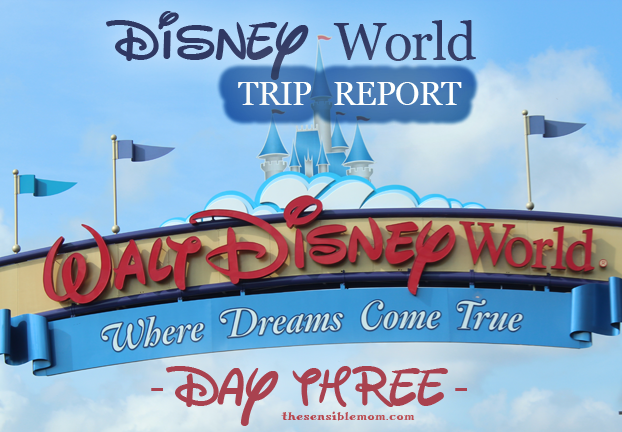 I'm recapping our trip to Disney World! We're on Day 3. If you've missed Day 1 and Day 2, just click on the links below in our Vacation Schedule to read those posts.
Our Vacation Schedule

Day 1: Disney's Animal Kingdom

Day 2: Disney's Hollywood Studios

Day 3: Disney's Hollywood Studios

Day 4: Epcot

Day 5: Epcot

Day 6: Magic Kingdom

Day 7: Magic Kingdom

Day 8: No parks. We checked out of our resort and tried to make it to our reservation at Chef Mickey's. It was not meant to be…I'll share the details as to 'why' in my Day 8 post. 🙁
Day Three 
As you can see from our schedule, day three was another exciting day of exploring Disney's Hollywood Studios. We spent two days at Hollywood Studios and still didn't see and experience everything we wanted to, however, we made the most of the time we spent there.
When we got up that morning, we tried to get to the park as soon as we could, so we didn't really eat breakfast (unless leftover Disney desserts count? ;)) and instead decided to have an early lunch at the park. We knew from previous experience that if we wanted to have a comfortable lunch at the park and be able to sit down as a family of seven, that we needed to have lunch early, if possible.
JEDI TRAINING
After we entered the park, we headed straight for the location where we could sign Breanna up for the Jedi Training Academy. This is a neat show where kids get to be Padawans in training and put on a show for people in the audience. We got in line and found out that she'd be part of the show that started around 1:20pm.
TIP: If your child wants to be a Padawan-in-training, make sure to sign them up right after you enter the park. Otherwise, they may miss their chance. Slots gets filled up very quickly.
LUNCH
After we had gone through the process to get Breanna signed up to be a young jedi, we separated, and Ruben took the three oldest kids to ride Star Tours. I took our two youngest kids to the Backlot Express, where we'd have lunch after Ruben and the other kids joined us.
DID YOU KNOW? The Backlot Express has a ton of seating, so it's a great option for large groups or families to sit down and eat, especially during the busy season at Disney. There's also neat areas in the restaurant where you can take fun pictures of your kids.
I'm glad we decided to eat at the Backlot Express. While we waited for Ruben and the kids to meet us there, my two youngest and I explored the restaurant and took pictures.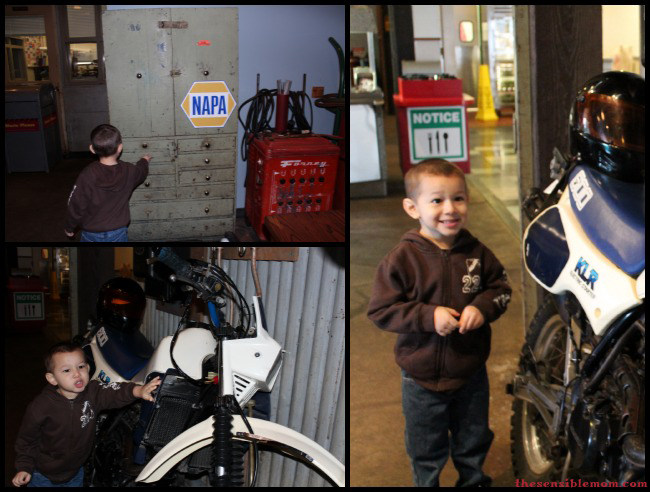 David absolutely loved this part of our trip.
 We had lunch using our Quick Service Disney dining plan, which is one meal per person (except for Elisabeth because she's under 3 years old), one drink, and one dessert. It was a little chilly and rainy this day, so we opted to make some of our drinks hot chocolate.
After lunch, we decided to get in line to meet Woody and Buzz Lightyear!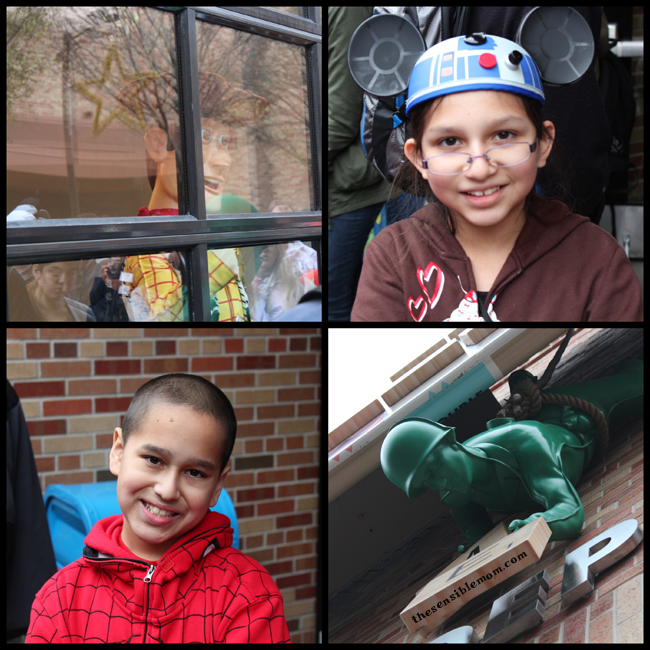 The line was a little long, but it didn't matter because it went quickly and there were lots of great photo opportunities while waiting.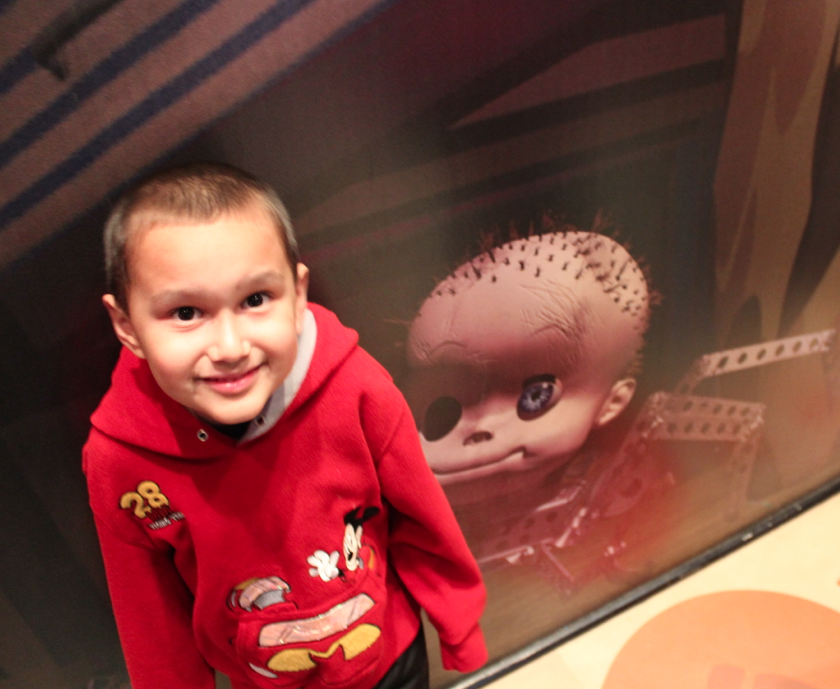 Disney is so creative. I love how they can even make waiting in line fun and memorable.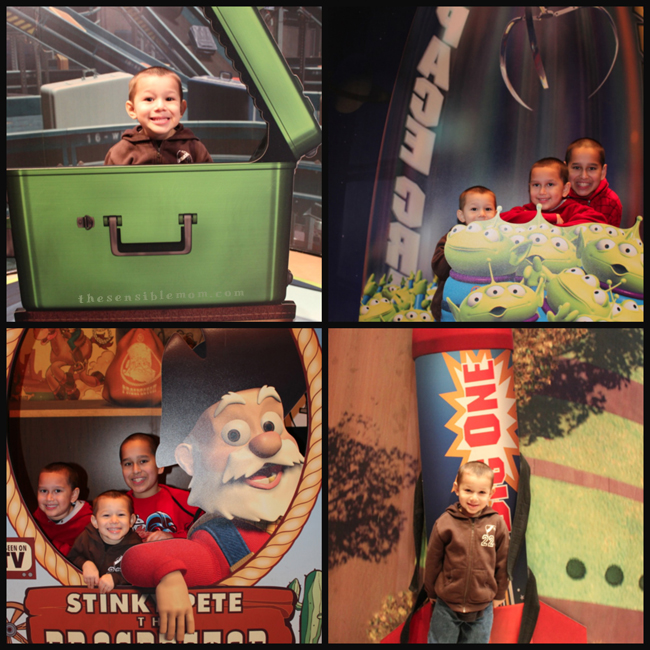 As we continued to wait in line, I started to think we might not make it back in time for Breanna's jedi training appointment, so we decided to split up again. Ruben stayed in line with the boys, and the girls and I went to check Breanna in for her star wars training.
THE JEDI TRAINING THAT WASN'T MEANT TO BE
There had been a light misty rain coming down for almost the entire day, so I wasn't sure if the training was going to take place or be cancelled. I didn't want to disappoint Breanna, though, so we went through the motions to see if it would be a go.
Now, here's where I'm going to say that Disney kind of disappointed us. We got back to the place where we needed to be for the training. There were LOTS of other parents and kids there, too. Just picture a bunch of parents wanting to make their kids' day, and a bunch of kids happily and anxiously awaiting to become young padawans-in-training.
GOOF UP
We were all there for the same training time, and instead of the Disney cast members telling us that training had been cancelled due to the rain and tell us to all go on our merry ways, they did something quite different. They had us go through ALL the motions (picture kids getting a fun pep talk while getting all excited) and act like the show was going to be taking place.
Then we walked over to the stage area in Hollywood Studios where the show takes place…still no one says that the show has been cancelled…we're told that one parent was allowed to get in a line with their child while the other parent waited a short distance away (to look on as the show would be performed on stage).
As we waited in line and as this whole process went on, my ears were listening, trying to overhear the talk between cast members. I was catching parts of what they were saying, which is why I was not thrilled, because it seemed like they were pretty certain the show was not going to go on.
We continued to wait in line…
Then, finally, we are told that the show isn't going to go on. A loud recorded voice is heard making the announcement that the show has been cancelled.
Children are completely devastated.
Okay, not really, but they were disappointed. Parents were definitely not happy. Some even voiced how disappointed they were at how the whole situation was handled to a Disney cast member.
There was a bit of consolation, though. The kids didn't get to be padawans-in-training, but they did get to be ushered into a very dark area where they got to meet Darth Vadar, another jedi, and some storm troopers. We got a few pictures. Breanna was handed a certificate, and that was that.
She didn't get to be a young jedi that day, but at least we tried. We went on with our day and had fun exploring the rest of the park. 🙂
By the time the whole jedi training situation was over, Ruben and the kids had made their way back to where we were in the park. I was happy to hear that they enjoyed meeting Woody and Buzz!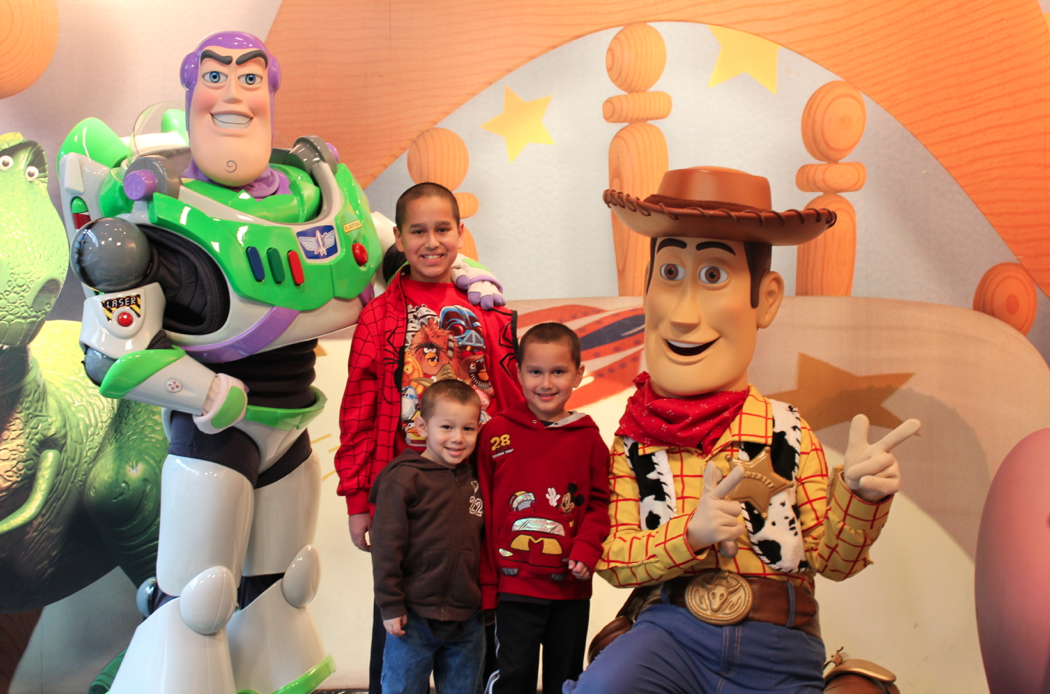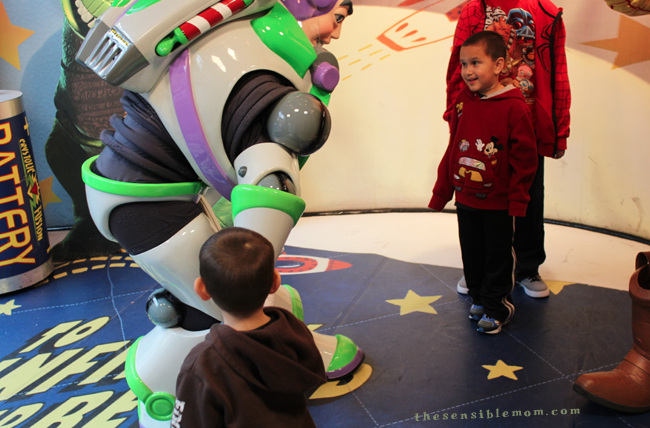 Since we were so close to Star Tours (a favorite ride for some people in our family), Ruben took the three oldest kids to ride it again.
We uploaded a movie to YouTube with part of their experience. 🙂
After that, we explored the park some more.
We met more characters…Wreck-It Ralph and Vanellope.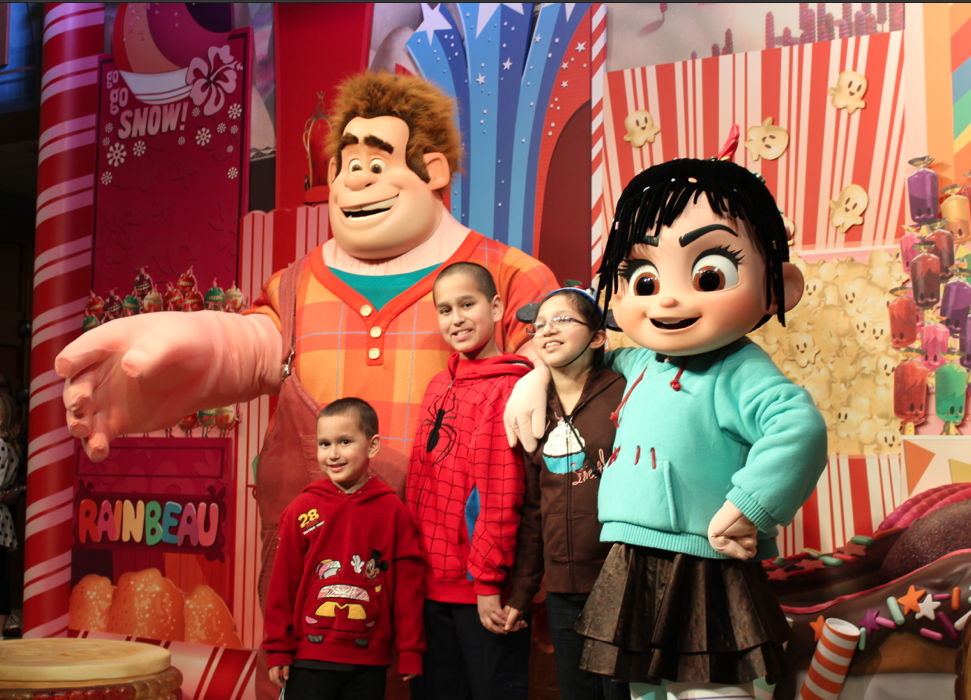 Characters from The Incredibles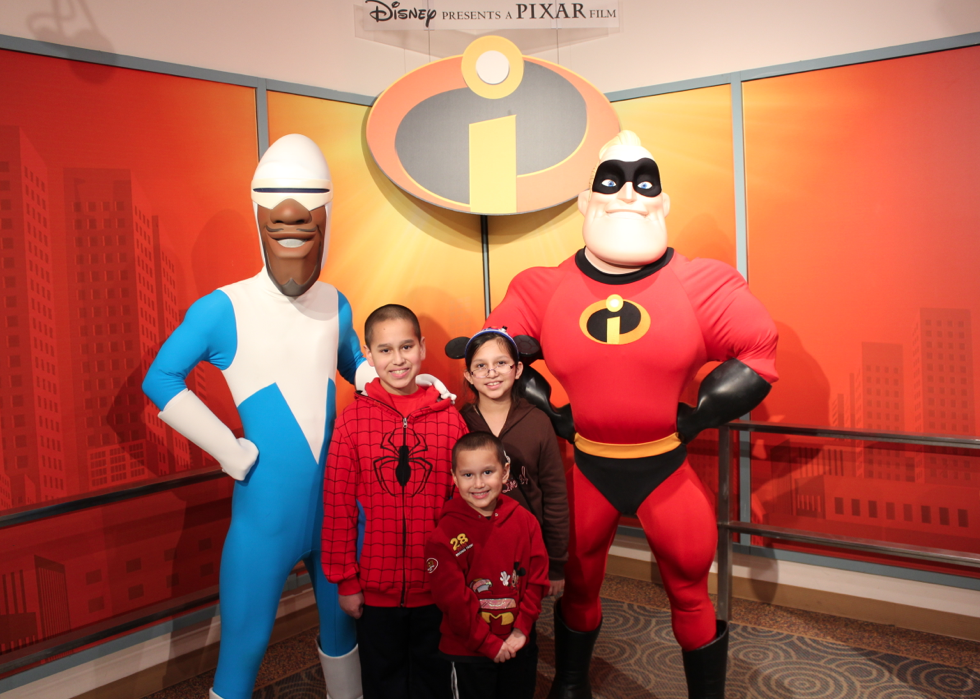 Green Army Soldier from Toy Story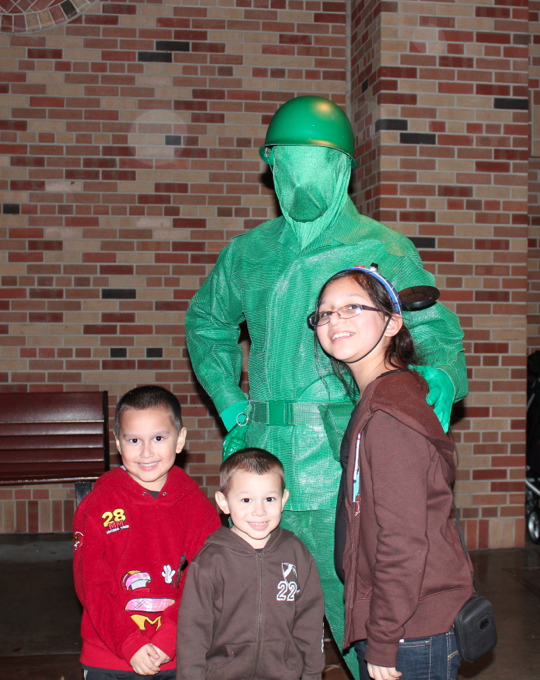 We packed a lot into this day, and one of the highlights was definitely getting to ride Toy Story Mania! again. We'd gotten fast passes for it earlier in the day.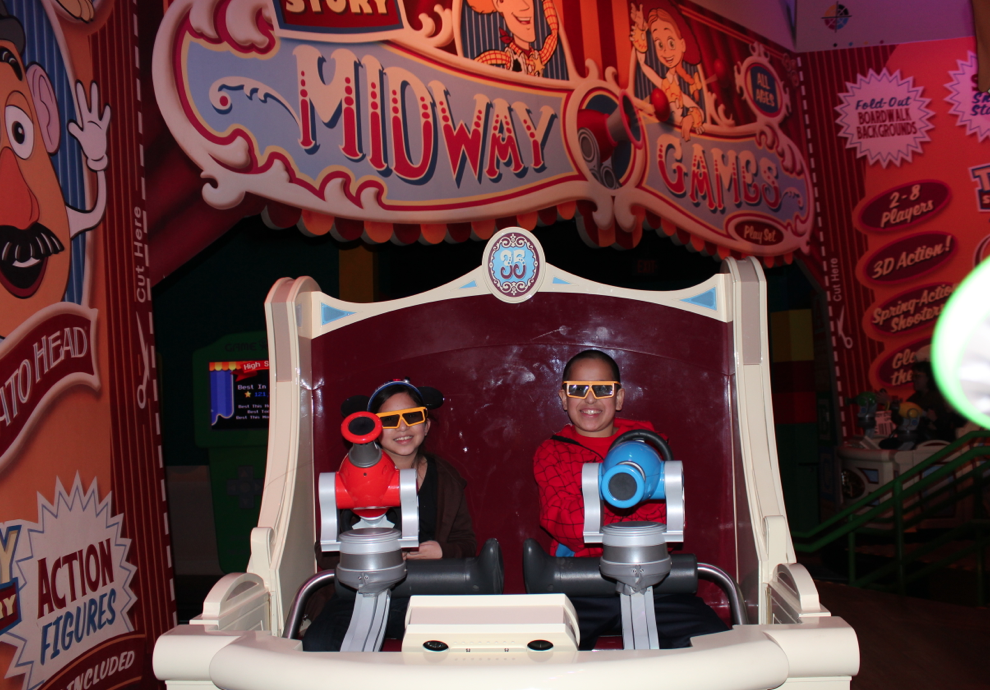 But the highlight that really made my jaw drop, literally, was the AMAZING light show that we saw as we got ready to leave Hollywood Studios. At some point in the near future, we're going to upload a video to YouTube so that you can see what I'm talking about, but for now, I have this picture.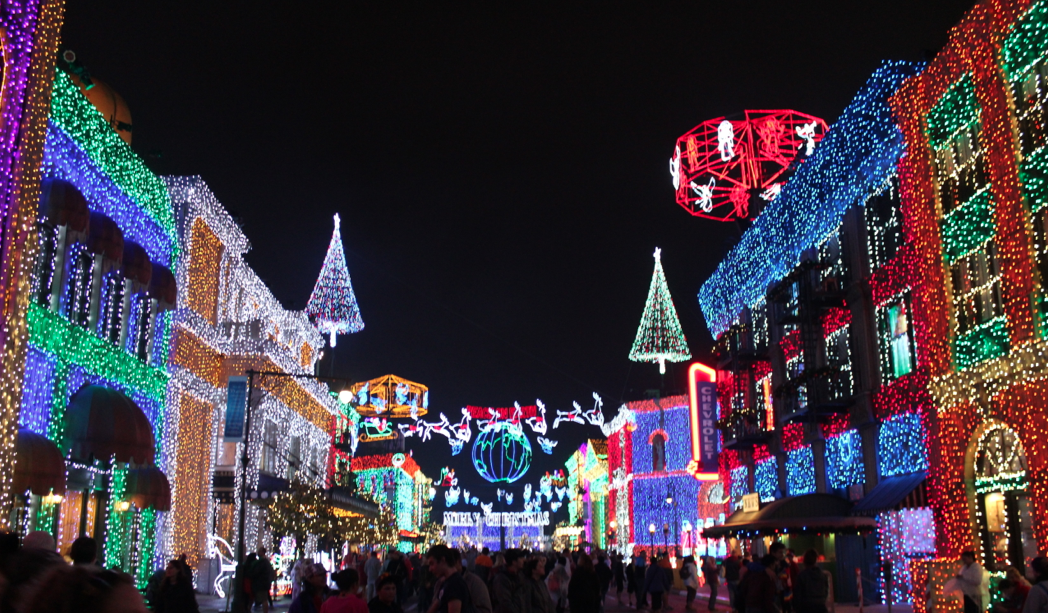 The lights and the show were spectacular. Seriously, spectacular. I wasn't expecting to see something like this, and, well, it makes me want to book another trip to Disney right now.
Oh, how I wish I could…
Anyway, we wrapped up our day by taking more pictures as we made our way out of Hollywood Studios.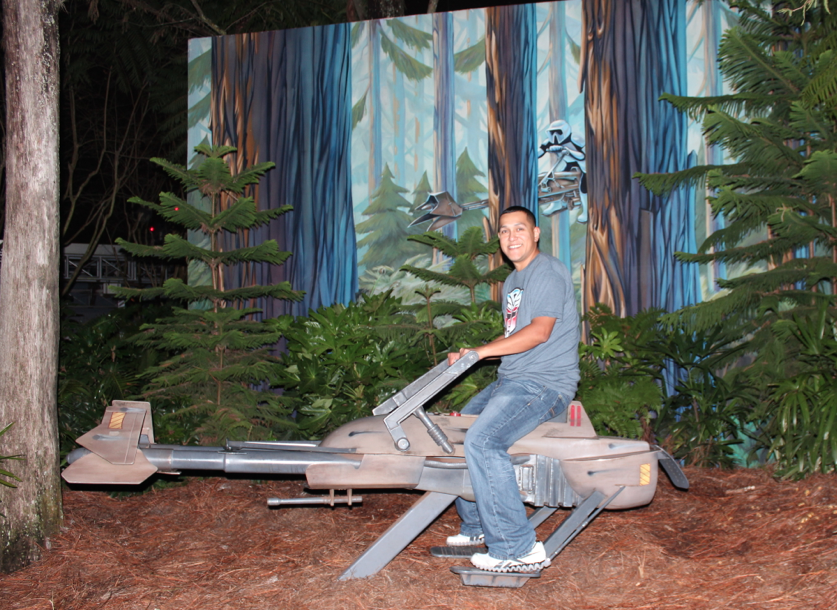 All in all, it was a terrific day, and we can't wait to go back!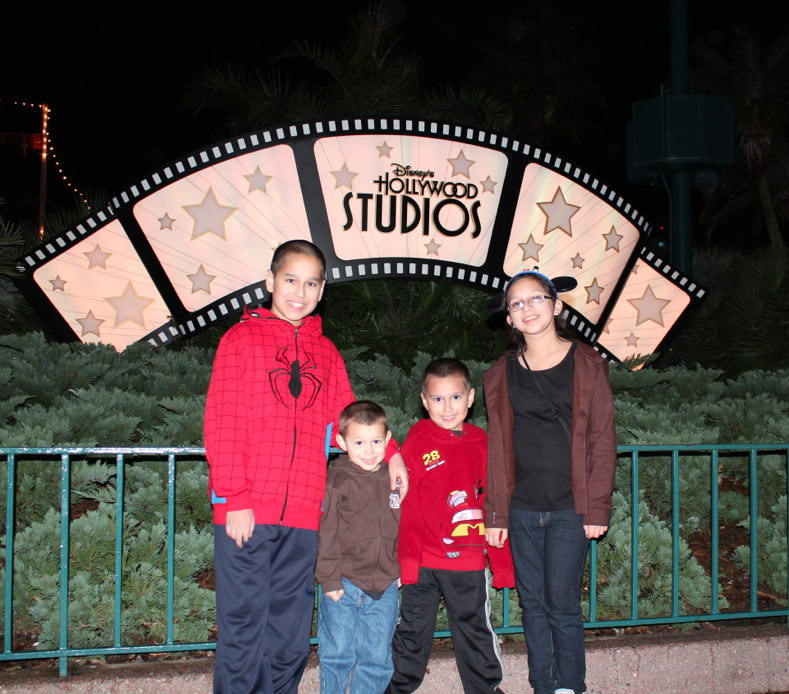 I can't remember now, but I'm pretty sure we had dinner back at the resort that night. I don't have any pictures to verify, though. 😉
Writing these posts makes me really miss Disney, but they also bring back a flood of happy memories.
Have you ever been to Disney's Hollywood Studios? If you have any Disney tips, be sure to share those, too!
Stay tuned for Day 4 at Epcot! I promise to try to get that post up sooner than later.