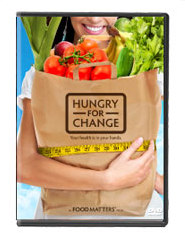 Are you interested in improving your health and don't know where to begin? Are you wanting to lose weight but don't know where to start?
Then I have a fantastic resource for you.
The movie Hungry for Change is going to be free to watch from March 21st through March 31st. I watched this movie last year during the free screening and loved it. It was another eye-opening film that gave me the desire to live a healthy life and seek to make positive changes in my diet. Watching this movie caused us to once again think about the foods that we are putting into our bodies and how those foods affect us.
And all you have to do to watch it on March 21st is sign up on the Hungry for Change website. Then in two days, you'll get instant access to the movie. It's 90 minutes long, and I recommend watching it in one sitting, if you can.
The movie is made by the same people who created the extremely popular movie, Food Matters – which also helped shape our view of food and the way we eat today.
*I didn't receive anything for recommending this movie. I just think it's a great movie. I care about your health, so I thought I'd share it. I'd love to hear your thoughts after watching it. 🙂