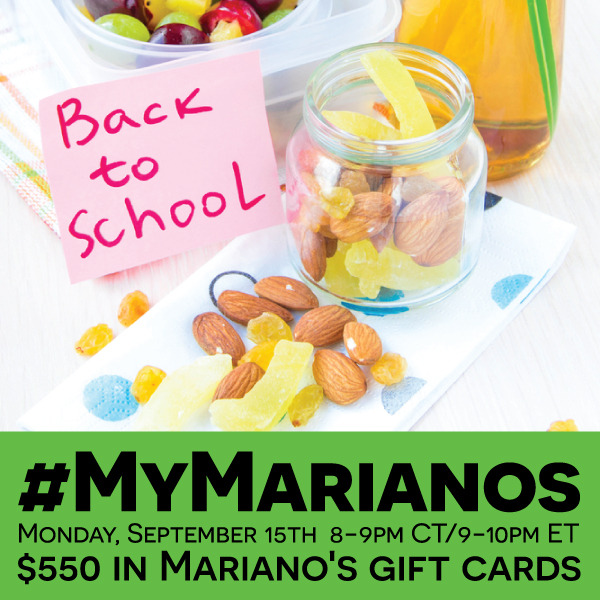 Do you enjoy a good Twitter Party?
I sure do.

And that's why I'm excited to host a Twitter party about back to school shopping! On September 15, 2014 at 8:00pm CT, I'd love for you to join us for the #MyMarianos Twitter Party where we'll be discussing quick and easy back-to-school meal solutions from Mariano's, and giving you a chance to win prizes!
Of course, back to school means busy schedules for the whole family, but shopping at Mariano's can provide the shortcuts you need when it comes to meal planning. From everyday lunch essentials, to busy weeknight meals and snacks, Mariano's has a department to fit your needs. Join us for a super fun Twitter party where we'll be discussing these things and so much more. Plus, learn about exciting new events at your local Mariano's, a sweepstakes to celebrate their four year anniversary, and even about new Vero Gelato flavors!
Join me and RSVP for the #MyMarianos Twitter Party on SoFabChats!

DATE: September 15, 2014
TIME: 8:00 – 9:00 pm CT / 9:00 – 10:00 pm ET
PRIZES: 5 – $100 Mariano's Gift Cards
EARLY BIRD PRIZE: 1 – $50 Mariano's Gift Card
HOSTS: @SweepTight, @JManMillerBug, @grandbabycake, @AFewGoodJens, @thesensiblemom
SPECIAL GUEST: @MarianosMarket
RULES: #MyMarianos Twitter Party Official Rules
RSVP & PARTY GRID: #MyMarianos Twitter Party Page
RSVP for #MyMarianos Twitter Party 9/15 8pm CT/9pm ET. Prizes! Rules http://t.co/ctvc4jR9tF #shop pic.twitter.com/cN5NrwFnM0

— Sandra Calixto (@thesensiblemom) September 11, 2014
How To Participate In A Twitter Party on SoFabChats!
TIP: How to join a Twitter Party – sign in! Before party starts, click on the green "Sign In On Twitter" bar at the top of the page!
TIP: Who to follow at a Twitter Party? Follow the Party Team by clicking on the Twitter handle links on the RSVP page!
TIP: Want to win Twitter Party prizes? RSVP by clicking on RSVP button before you join the party, follow everyone on the Party Team, and tweet with the party hashtag during the party to be eligible!
TIP: How to win the Early Bird prize? Watch for chance to share a tweet when you RSVP for chance to win!
TIP: Special deals and brand coupons? Keep that options checked when you RSVP for the party!
TIP: New to Twitter parties? Watch your column and Party Team tweet columns – they are slower paced and easier to follow!
TIP: Where to find Twitter Parties? Check out the SoFabChats Twitter Party Calendar to find more fun parties to attend!
Find more helpful Twitter Party Tips on SoFabChats!