My plan for this week was to have a cleaning day on Tuesday to get our home ready for our Thanksgiving guests, but two things happened last week that kind of sped up our cleaning day and left our home in relatively good shape. First, we all got sick last week, which resulted in vomit everywhere and us subsequently doing 20 loads of laundry and using a rug cleaner to shampoo the carpet. And second, my dad came to stay with us for a few days. I found out late Friday evening that he was on his way and that quickly kicked me into high gear. Guests seem to do that, don't they?
So, at the moment, our home is looking good except for some areas that constantly need attention in order to stay in shape. I decided to tackle those areas. Take a look:
First is the DESK. A clutter magnet because so many people use it. It usually gets cleaned at least once a day, but unfortunately can go from clean to messy in about 2 seconds. Our mail is sprawled over it in the picture. Here's the before: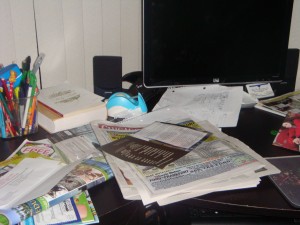 And the After:
Next is our shoe area. Before: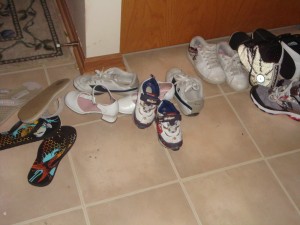 After:
I also decluttered a small area in our home that tends to be a place to put things you don't feel like finding a "home" for. Before: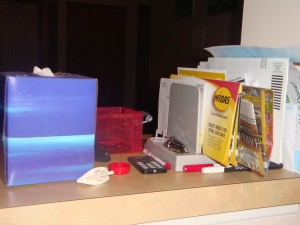 After:
In addition to these three areas, I also folded a load of laundry, but I'll spare you pictures of that since I know we all know what an empty basket looks like. 🙂
Did you tackle anything this week? I'd love to hear about it!
To see what everyone else is tackling this week, please visit 5 Minutes for Mom!