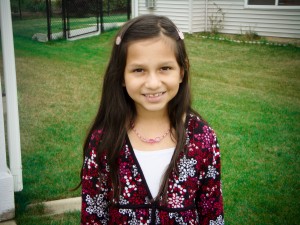 This year we decided to start a new tradition with our kids.  Once a month, each one of them gets to go out alone with Daddy.  Well, all the older kids get to go out alone with Dad.  David, our youngest, is 18months old, so, we'll wait until he is at least two years old to start this tradition with him.
Essentially what happens is, Ruben and I decide what the kids will do on their "Day Out with Dad," and it's a surprise for the kids until that day.  Sometimes we do let them know ahead of time so they can "dress for the occassion" if necessary, but otherwise, we try to keep it a surprise.  We keep things LOW budget for their Day Out with Dad, too.  They've done things like:
:: Go out to lunch or dinner when there's a Buy One Get One free deal going on or we have a coupon
:: Go to the Brunswick Zone (this is a bowling alley and arcade game place and we get discounted vouchers for this place through a local radio station) 
:: Go to the library
:: Go to a local museum (where kids 3 and under are free (Isaac) and hunt for coupons online for Ruben)
:: Go to get their picture taken at JC Penney ALONE (they love this!)
:: Do something inexpensive through our local park district (Daddy Daughter Princess Pancake Breakfast)
Last Saturday was the Princess Pancake Breakfast.  Ruben took Breanna, and they had a wonderful time!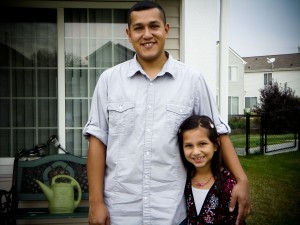 The Princess
Do you have any special traditions you do with your children?
P.S. The name "Day Out with Dad" came from a project that I created for a class over the summer.  I had to make up a fake event and create tickets, invitations, and a poster for it.  I made up a Father-Son golf outing called the "10th Annual Day Out with Dad" at the Yogi Bear Golf Course.  After that project, the name kind of stuck with the kids, and they ended up calling their time with Ruben their "Day Out with Dad."  It works. 🙂