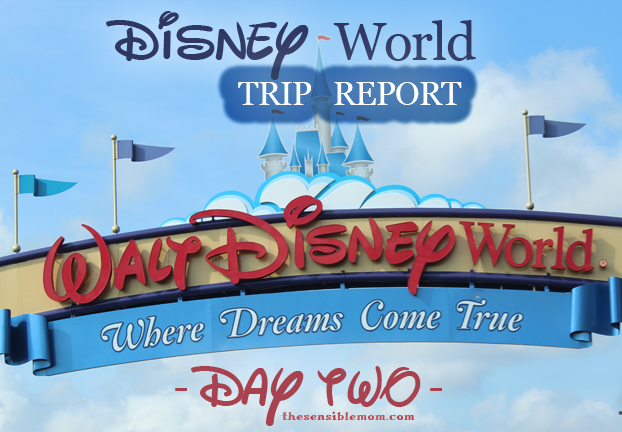 I'm recapping our trip to Disney World! In case you missed Day 1, you can read all about it here.
Today, I'm moving onto Day 2! Get ready for lots of exclamation points. I can't help but use exclamation points in my posts about Disney World.
It's Disney World. I love writing about it, and it makes me very happy! So let's get started!
On day 2 we went to Disney's Hollywood Studios, and while we could have easily spent three days touring this park, we were only able to spend two days of our trip there.
Actually, before I jump into the details, for those who are going to be following my entire trip report (hopefully, all of you ;)), I think it would be helpful to let you know what to look forward to and which parks we visited on each day of our trip.
Our Vacation "Schedule"

Day 1: Disney's Animal Kingdom

Day 2: Disney's Hollywood Studios

Day 3: Disney's Hollywood Studios

Day 4: Epcot

Day 5: Epcot

Day 6: Magic Kingdom

Day 7: Magic Kingdom

Day 8: No parks. We checked out of our resort and tried to make it to our reservation at Chef Mickey's. It was not meant to be…I'll share the details as to 'why' in my Day 8 post. 🙁
Okay, now that you know what to look forward to, I'll jump right in! We tried to get wake up bright and early every day of our trip, because we knew that the earlier we got to the parks, the better.
TIP: If at all possible, it's best to get to the parks early. Not only will you avoid waiting in long lines to ride rides and see attractions, but you'll get to catch opening ceremonies that the characters perform to welcome guests to the park. It's a wonderful experience. If you can only get to the park when it opens one time during your trip, it'll be worth it.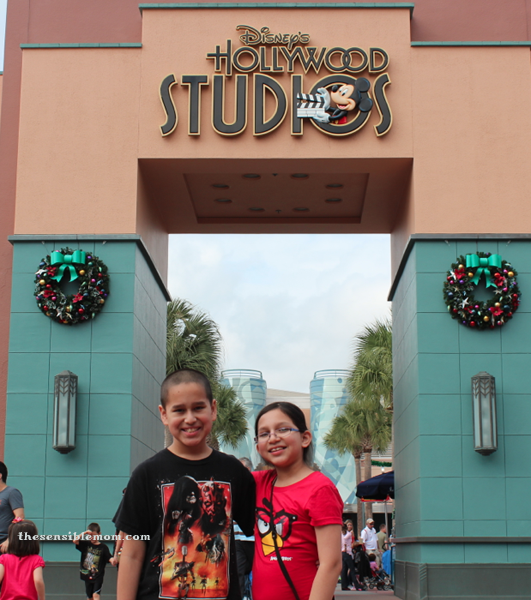 After we got through the turnstiles, we started following the touring plan from my favorite Disney book, The Unofficial Guide to Walt Disney World. This book includes a two-day plan that was right for our family. And while we never stuck to the touring plans exactly, they were a great guide, and I wouldn't leave home without them. Ever.
We didn't get to the park right when it opened for three reasons:
1. Our bodies were still in shock from all the walking we did on Day 1 of our trip. I decided not to wear flip-flops on Day 2, and that made a huge difference.
2. One of the kids was now starting to get sick. We caught colds while we were at Disney, and that did slow us down. I was prepared, though. I had Zicam, throat drops, and tissues…which we were out of by the end of our trip as the cold virus spread to the rest of us.
TIP: It's a good idea to pack medicine on your Disney trip, just in case. There are a lot of germs at Disney, and you want to try to be as prepared as possible. Oh, and if you're not used to eating out a lot but know that you will be while you are on vacation, then be sure to pack medicine for possible upset tummies, too. I brought tummy medicine along, but thankfully, I never had to use it. Whew!
3. I have five kids. There was little chance we were ever going to be up, ready, and at the park when it opened. I'm hopeful that we'll be able to do that on our next trip when the kids are older.
Because we didn't get to the park right when it opened, we had to get fast passes for Toy Story Mania! We didn't mind, but our fast pass return time was for that evening. I think the return time was actually after 6:00 pm, which says something about how crazy-fun the Toy Story Mania! ride truly is.
DID YOU KNOW? Fast passes are amazing. They're completely free, and they'll save you hours of standing in line. You simply insert your ticket into the fast pass machine and out comes your fast pass to a particular attraction. With your fast pass in hand, you can go on and enjoy other areas of the park and skip the long lines. You simply return to that ride or show during your fast pass return time, and you get ushered into a shorter, faster moving line. Genius. Thank you, Disney.
After we snagged our fast passes, we started touring the park. It wasn't long before we were in line to meet a character. The kids had their autograph books ready for signing.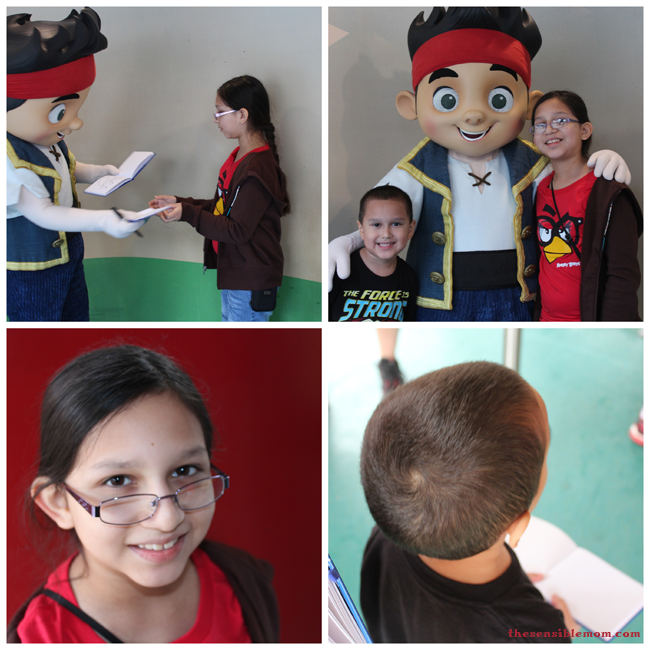 After we had spent a few hours in the park, we needed snacks. We ended up using our snacks credits on Mickey Mouse pretzels and delicious super thick chocolate shakes.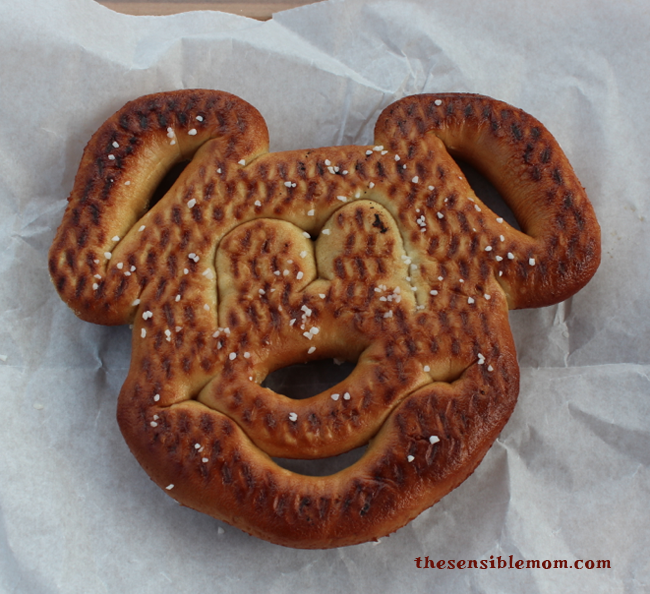 I love how Disney goes the extra mile and adds cute little touches to regular snacks. We noticed this over and over with meals and snacks both in the parks and at our resort. It was great, and pretty much anything that can be turned into Mickey, well, it's either turned into Mickey or given a special Mickey touch.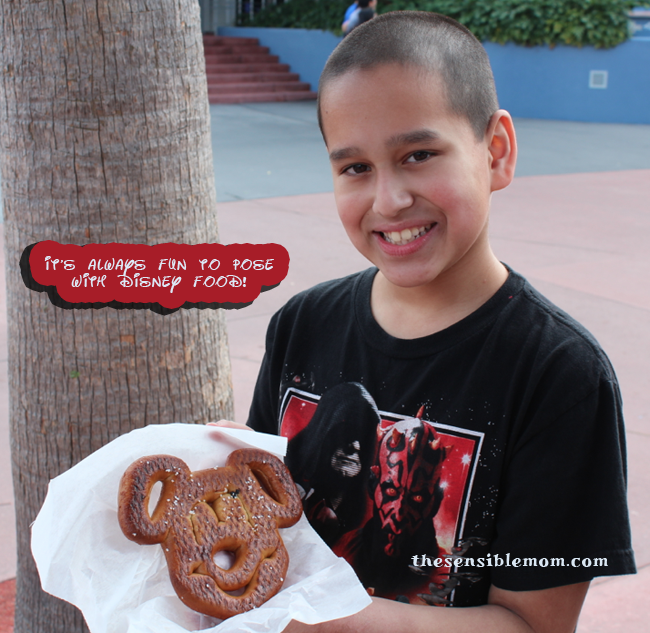 The kids loved the chocolate shakes. We shared two of them, because each person did not need their own and I wanted to be the best steward possible of our snacks credits. (If you want to find a huge list of snack credit options, be sure to check out this list. Trust me, it's amazing!)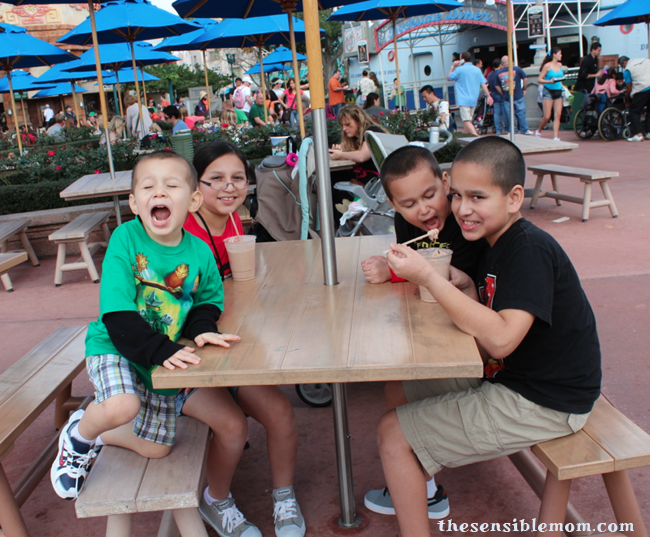 After our snacks, we went back to touring the park! If you're wondering how in the world we made it through Disney World with five kids, well, we had a double stroller (I recommend bringing your own stroller, if you can, to avoid the fees associated with renting a stroller at Disney).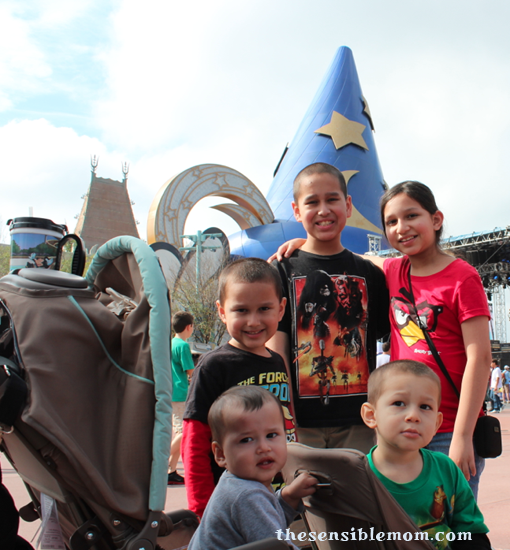 I also purchased a baby carrier for our trip. It worked great when Elisabeth was happy. When Elisabeth was not happy, I looked a little crazy pushing a double stroller with a sometimes-very-wild-three-year-old and a screaming baby attached to me — who no longer wanted to be attached to me. I only had to do that a few times when Ruben had taken the bigger kids to ride Star Tours or some other ride. It wasn't pleasant, but for the most part Elisabeth was a happy girl in her carrier.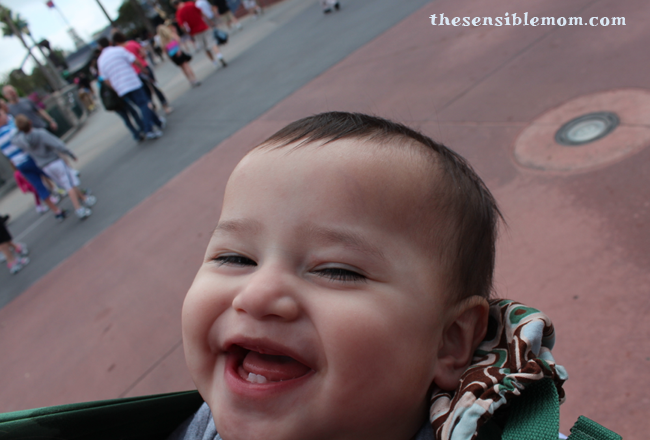 I know this post is getting long, so I'm going to try to give you the quick version of the rest of our day — with pictures!
We had lunch at the ABC Commissary at Disney's Hollywood Studios. Because of its ample seating, the ABC Commissary is a great place to eat if you have a lot of people in your family/party and you're visiting Disney during a busy season. We were there just after New Year's, and for the first few days of our trip, the crowds were heavier due to people still being off of work and school and spending their vacation time at Disney World. The second half of our trip was much better crowd-wise when school was back in session. Being able to go to Disney World without worrying about our kids missing school is definitely one of the perks of homeschooling.
Anyway, our quick service dining plan included desserts, so we opted for cupcakes!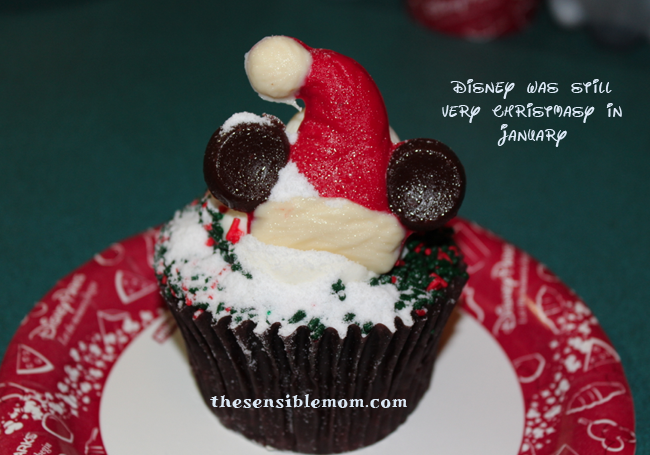 We had tried to have lunch at Pizza Planet but couldn't find enough seating for our family. Instead, we just took pictures there after lunch at the ABC Commissary.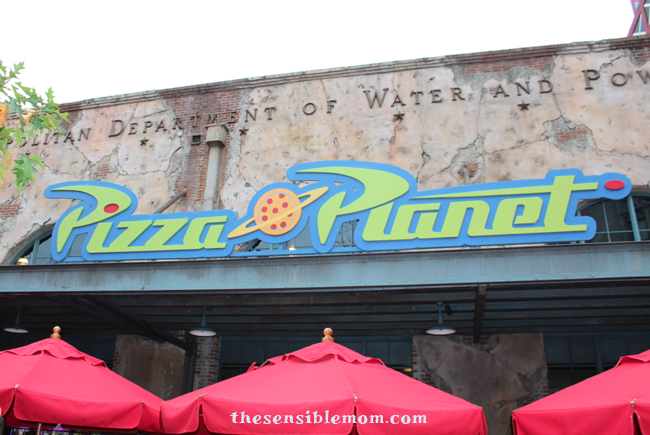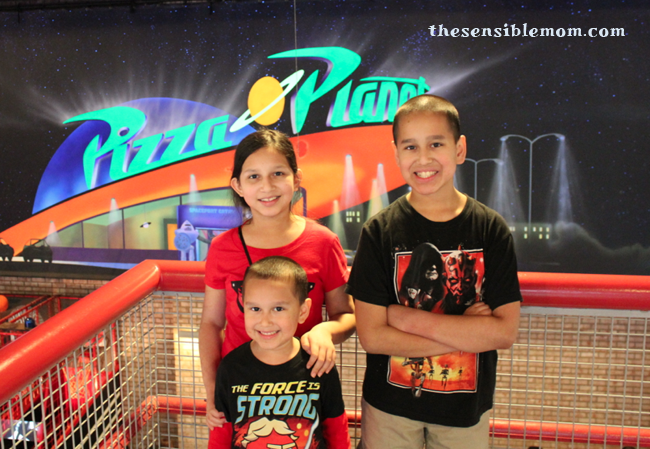 We took more pictures around the park.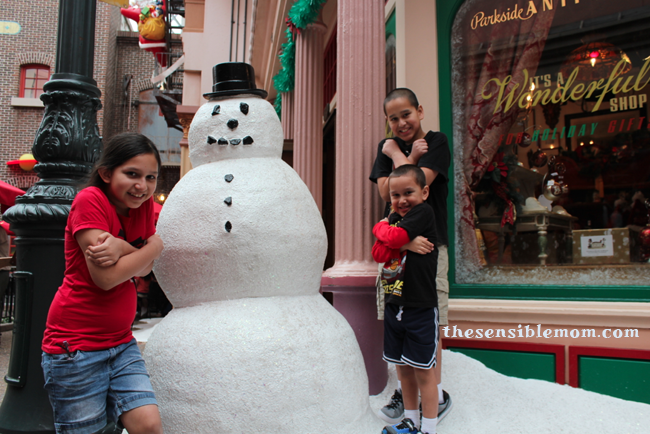 We finished touring the park and then headed back to the resort. We left shortly before the park closed, and we were exhausted. But it was a great day.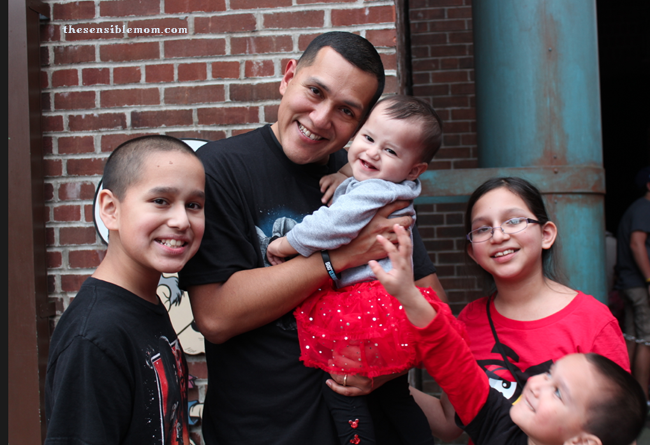 We had a late dinner at the resort (we did that often during our trip) and then got to bed late so that we could get up early and do it all over again the next day.
And we did. 🙂
Stay tuned for Day 3 and see what we did on our second day of touring Disney's Hollywood Studios!
Have you been to Disney World? Do you have any tips to share? I'd love to read them in the comments!