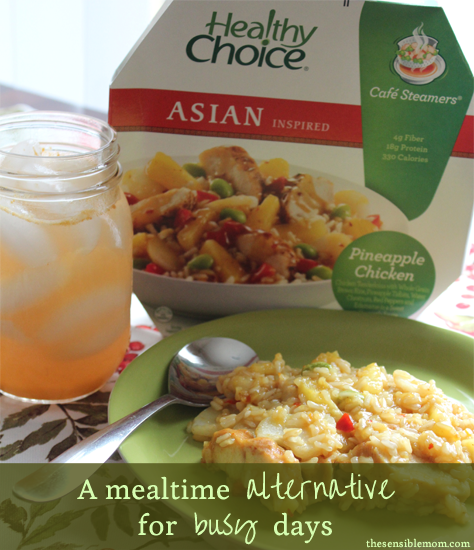 We all have busy days.
Life is full, and sometimes my life is so full that I don't have time to cook. I'm working on pruning my regular to-do list so that I can regularly do the things with my family and work that are the most fulfilling. I want to stop doing things and taking on projects that make me feel frustrated and busy all the time. I want to be able to say, "yes" to my kids more often and simply have more time to really connect with them individually.
I'm not 'there' yet, but I'm working on it. In the meantime, I need quick and easy meal options for busy days. Sometimes, leftovers are what's for dinner at our house, but another good mealtime option is already prepared frozen meals. Frozen meals like Healthy Choice are far different from what I remember as a kid.
Did you know? For Healthy Choice meals, vegetables are picked at the peak of freshness and most go from farm to freezer within 24 hours.
Eating Foods I Like
Another reason I like frozen meals is that they give me the opportunity to eat something that if I made it at home, I'd be the ONLY person eating it. I live among picky eaters, whom I am forcing working hard to change, but it's a work in progress.
I like that I can eat pineapple chicken while the rest of my family has something they like, and everyone is happy. 🙂
Weight Management
Of course, you probably already know that Healthy Choice meals can help with weight management, because they have the calorie content right on the front of the box, and there's built-in portion control. I also like that there aren't any preservatives, and there's a variety of vegetables in Healthy Choice meals.
Overall, I love that frozen meals offer busy families a quick and easy alternative on busy days.
For mealtime, what works for you on busy days?
Watch an interesting video that follows two women as they…"Discover the Future of Frozen Foods"
More About Frozen Meals

ConAgra Foods frozen meals give families access to real ingredients like crunchy, freshly cut vegetables, homemade pasta and ripe fruit year-round. Just like most people blanch veggies before freezing them – ConAgra Foods does too – to help preserve color, texture and keep them fresh!

Give it a try sometime! Marie Callender's hearty pot pies are filled with tender meat, freshly cut vegetables and Marie's authentic golden, flaky crust. And Healthy Choice recipes use chef-inspired ingredients like, apples instead of sugar for tart sweetness and a splash of red wine for a punch of flavor instead of added salt.
This is a sponsored post written by me on behalf of ConAgra Foods.