This is a compensated campaign in collaboration with Pull-Ups® Training Pants and Latina Bloggers Connect.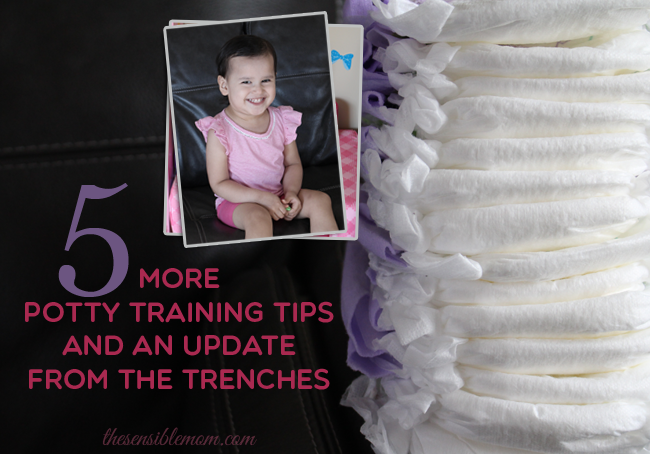 Potty training my baby girl is going to take longer than I thought.
I mentioned in my last potty training tips post that I pretty much have all the time in the world when it comes to teaching her to use the potty, and she can take all the time she needs.
You know, because she's baby number five, and we aren't planning on having anymore children. I'll never get to experience the joys of teaching a little one to use the bathroom again, so I'm totally fine with drawing this thing out. 😉
However, at the moment, Elisabeth is clearly demonstrating all the signs that she's ready to use the big kid potty. She doesn't want to wear diapers, and she doesn't like the feeling of "going" in her diaper anymore. She loves her Pull-Ups Training Pants and talks about "going" in the potty.
But then she avoids it like crazy.
That's okay, though.
Just like with nursing her longer than I did my other kids, I'm in no rush when it comes to potty training her. I actually have a feeling that one day she's simply going to get the hang of it, and that'll be it. Elisabeth will be potty trained.
In the meantime…
Here are 5 more potty training tips and things you can do to help your toddler achieve potty training success. 🙂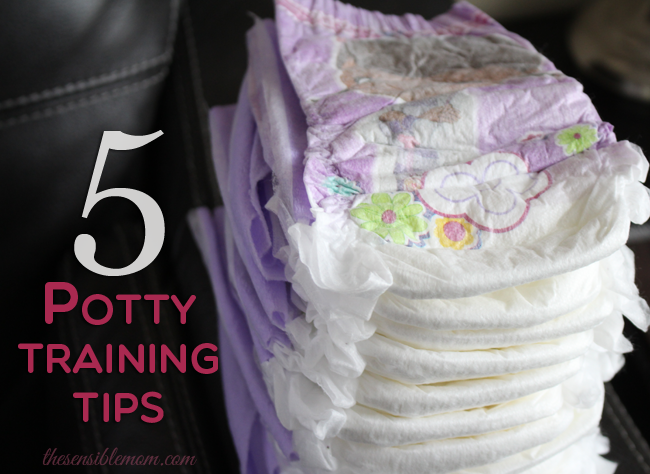 Tip #1: Set up a reward system to encourage your child to use the potty. I probably don't have to tell you this, but rewards are incredibly motivating for little ones. Use stickers or a special treat to persuade your child to go to the bathroom on their own.
Tip #2: Even if a child is able to fairly quickly learn how to use the potty during the day, it may take a while for them to be fully trained at night.  With boys, it could take a LONG while (just my experience), so it's a great idea to continue to put Pull-Ups Training Pants on them before bedtime. Otherwise, you may be doing extra laundry in the morning.
Tip #3: Try to help your child overcome their potty fears with books. Stories are powerful. Find one or two books at your local library and see if they can help your toddler overcome any fears they might have.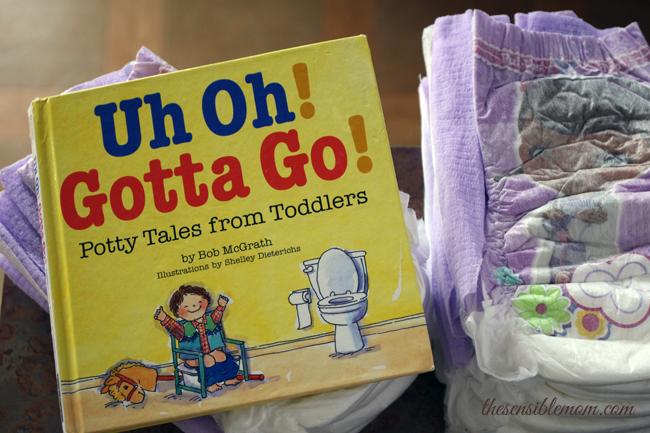 Tip #4: Parents have been using Pull-Ups Training Pants to help with potty training little ones for a very long time. Visit the Pull-Ups website for encouragement, tools, and resources.
Tip #5: Speak to other moms and find out what worked for them. There are so many different ways to potty train. If your current method isn't working, it's always a great idea to talk to another mom. You'll probably laugh as you swap stories, and it's possible that what worked for her son or daughter may work for your little one, too.
Do you have any potty training tips to share? I'd love to hear them!