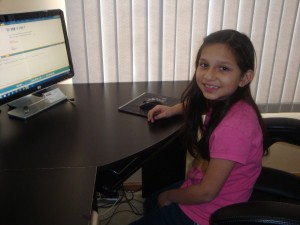 I'm thankful to the Lord to be able to home school our children while at the same time going to school myself. Breanna is happily working on her homework in the picture.  We use a curriculum called Switched-On Schoolhouse which is a computer-based home schooling program.
The program does all the lesson planning which includes scheduling all their lessons, tests, and quizzes. The lessons themselves are excellent.  The kids are learning all the necessary requirements as well as many other interesting things. Their spelling and reading skills have greatly improved as well. I can't say enough about this program.
But just because the program does all the planning for us doesn't mean the kids never need help.  While they are able to do most of the work on their own, they still ask for help on a regular basis. Ruben and I can then walk them through or help them with the question they're struggling with.
Nathan has really been thriving with this program. He's a visual learner, and because everything is right before his eyes, he is doing well learning with Switched-On Schoolhouse.  Breanna enjoys the program as well, but she recently asked if we could go back to the "old" way we used to home school where I was the teacher. I let her know that I'd think about it and maybe we could change things a bit with her once I begin home schooling Isaac next year (That's going to be an adventure! :-)).
For now, we're staying with this program, and I'm grateful for it.