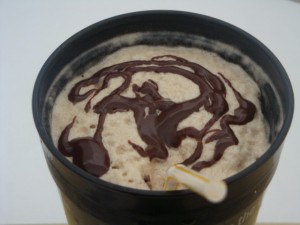 I've been blogging the last few weeks about how I can not get over a serious homemade frappe addiction, so, I thought I'd share with you just how I make them and encourage you to make them as well. I've also discovered a delicious chocolate syrup recipe in my raw foods cookbook that is perfect when drizzled on top of frappes.  Only I've slightly adjusted the recipe to include less raw cacao powder because the original recipe calls for way too much.
To make the frappes, I use a Mr. Coffee Frappe Maker.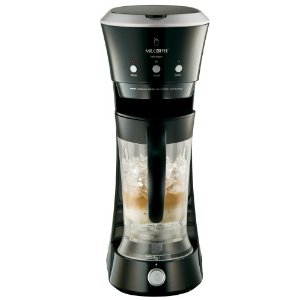 Ingredients:
1/2 Cup Water
3 Tablespoons Coffee Grounds
2 Cups of Ice (or fill to "max ice" line)
1/4 Cup of Organic Milk (you can also use almond milk)
1 Teaspoon Vanilla Extract
2.5 Tablespoons of Raw Sugar
Directions:
Lift the lid on the top of the frappe maker, add water and coffee grounds in there respective compartments (there a small compartment in the front for a coffee filter and coffee grounds and then you pour the water into the compartment behind the coffee grounds). In the actual frappe cup, remove lid and, in this order, add ice, milk, vanilla extract, and sugar. Replace lid and secure the frappe cup in place.  Push the "Power" button and then immediately after that push the "Frappe" button. Wait for the frappe maker to brew coffee and blend frappe.  It takes about 3 minutes. Enjoy!
You can also enjoy homemade frappes WITHOUT a frappe maker if you have a coffee maker and a blender.
Simply add the ice, milk, vanilla extract, and sugar into a blender.  After you've added these ingredients and before starting the blender, add 1/2 freshly brewed coffee. Then blend until smooth and enjoy!
Frappes are also delicious with whipped cream and chocolate syrup on top. I have yet to make a raw whipped cream.  It's one of those things I'm making plans to try, but I have made raw chocolate syrup which is a nice accompaniment to the frappe when drizzled on top or even mixed in.
Raw Chocolate Syrup:
3/4 Cup Cacao Powder (This is not cocoa powder but looks very similar.  You can find it at Whole Foods or online.  You may even find it in the organic section of your local grocery store.)
1 Cup of Agave Nectar (Looks like honey, and you can find it at a Super Target or your local grocery store in the baking aisle.)
1 Cup of melted Coconut Oil (just melt the coconut oil in the microwave and you're good, you can also find this at the your local grocery store or even Target)
1/2 Cup Water
Directions:
Add cacao powder and agave nectar to a food processor and pulse until smooth.  Then slowly add the coconut oil while pulsing.  After that, add the water and pulse.  Enjoy!
This chocolate syrup goes well with anything you'd regularly use chocolate syrup in.
And there you have it guys.  It's the treat I enjoy regularly and still manage to lose weight. 😉
This post is linked to Thrifty Thursday because making homemade frappes is a real money saver.  It's also linked to Ultimate Recipe Swap to share the frappe love.
By the way, for those who need a visual, agave nectar looks like this: