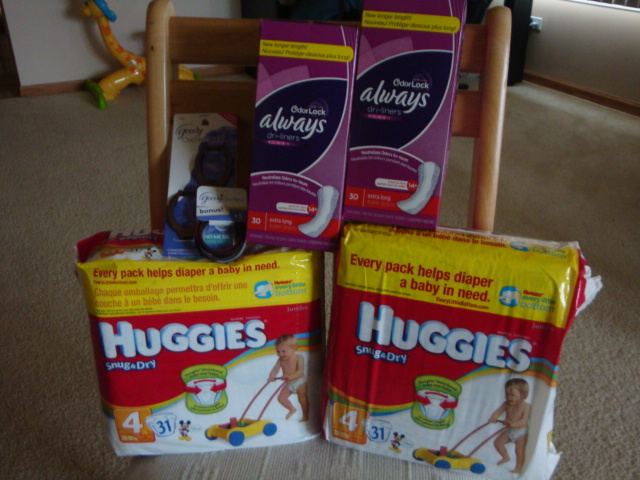 I made a trip to Walgreens this week and picked up some pretty good deals. Here's what I paid:
$6.00 for (2) packs of Always pads ($3 each)
-$4.00 Register Reward when you buy 2
-(2) $1.00 mfgr. cpns. from P&G Coupon Booklet that I got in the mail
=FREE after Register Rewards!
$3.00 Goody Hair Accessories
-$3.00 Register Reward when you buy one
=FREE after Register Reward!
$17.98 for (2) packs of Huggies Diapers ($8.99 each)
-$3.00 Register Reward when you spend $15.00 on Huggies diapers
-$3.00 Printable Coupon (I actually had two of these, but after I left the store I noticed that one didn't scan. :-()
=$5.99 per pack (This is a little higher than I'd normally pay for diapers – even Huggies, but I thought we were just about out. Then after we got home, my husband informed me that he found two more packs under the bed. ;-))
Altogether, I think I made out with some pretty good deals. I'm planning on making another quick trip to Walgreens today to pick up a few more things. I'll try to share what I got with you guys later today.
This next picture shows what I recently got in the mail from Bzz Agent.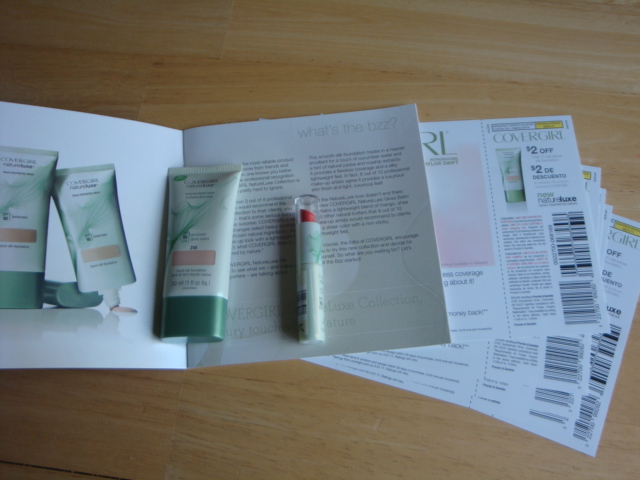 I was invited to a Bzz Agent campaign to test out Cover Girl NaturalLuxe makeup…..for FREE. I've done a few makeup campaigns for Cover Girl with Bzz Agent, but this has by far been the best one yet. I'm enjoying using both of these products on a regular basis because they're just "me". I use foundation regularly, but this one feels so smooth and silky. And it's the perfect color for my face. I use the gloss balm in combination with my regular lip gloss and that's working out well for me, too. I definitely go for a more natural look when it comes to makeup, and I've been trying to switch more of my makeup products to natural ones, so, these products are right up my alley.
I just love being a Bzz Agent, and if you're a mom or anyone for that matter, you might want to join, too. Bzz Agent is a word of mouth program where you get invited to campaigns to try new products or services for free, and in return you Bzz about those products or services to your family and friends. It's a simple program with great perks. Free products, anyone? 🙂
Did you get any great deals this week?