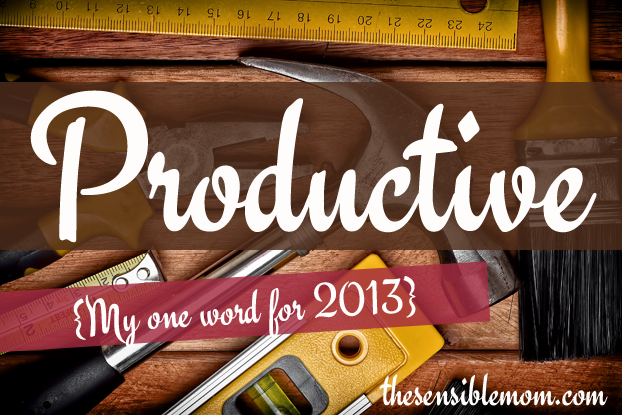 Have you chosen your one word for 2013?
Since I've been blogging, I've enjoyed reading posts from other women at the start of each new year, where they choose one word to really focus on in the new year. They choose a word like JOY, CONTENTMENT, FAITH, etc… Then they pray, work hard, and strive to see their 'one word' become a reality in their every day life.
My word for 2013 is, Productive.
I need to be more productive. I know this may seem like an absolute shock to people who know me. 😉
But the truth is, I have Type A ambitions (lots of them…more than I can count),  but I totally do not have a Type A personality. I'm definitely a very easy-going Type B personality. There's no way around this fact. Just ask my husband.
I'm Type B, and I've come to accept that. 🙂 Unfortunately, though, because I tend to be so easy-going, I find myself putting important things off and waiting until the last minute to get things done. Instead of doing what needs to be done, I find myself getting distracted by other easier things to do…things that don't require a lot of brain power (and I check my email way too often).
I'm going to cut myself a little slack, because I do have five kids. And one of the five, my almost-four-year-old, is really crazy difficult all day long sometimes.
But the bottom line is that when I do have a chance to be on the computer (without little hands tapping on my keyboard or turning the power off), I don't always use my time wisely. And when I have the chance to go to bed early, I stay up late. Both of these habits have hampered my productivity, and they need to change.
And in order to change, I need to focus. More specifically, I need to focus on one word.
Productive.
Productive. Productive. Productive…
Have you chosen one word to focus on in 2013? Have you done this in the past?