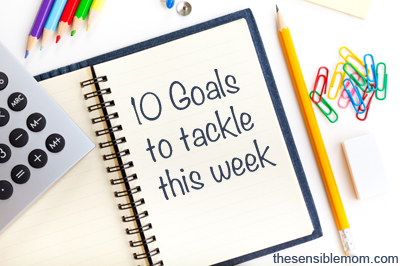 I missed updating and posting my goals last week. I did pretty well with getting my previous goals accomplished (thanks to adding them to my calendar), but I'm going to start fresh this week. 🙂
Here are my goals for this week:
Family/Mothering Goals:
1. Cook with Isaac and David
2. Continue taking Nathan and Breanna with me to the library — We're trying out a new routine. My two oldest kids and I head to the library 3-4 days a week for 2-3 hours at a time. They do schoolwork, and I work. So far, I'm loving this new system. I think this will definitely work for our family long term.
Personal Goals:
3. Drink juice 2 days this week
4. Read 10 pages of the book Desperate
5. Walk on the treadmill 4 days for at least 30 minutes each time
Home Management Goals:
6. Unpack one box
7. Clip coupons that continue to pile up
Business Goals:
8. Work on projects
9. Return emails
10. Write 4 blog posts
What are your goals for this week?