A special thanks to BrushAndFloss.com for the products I received
to share with my readers and facilitate a giveaway as part of the Mom It Forward Blogger Network.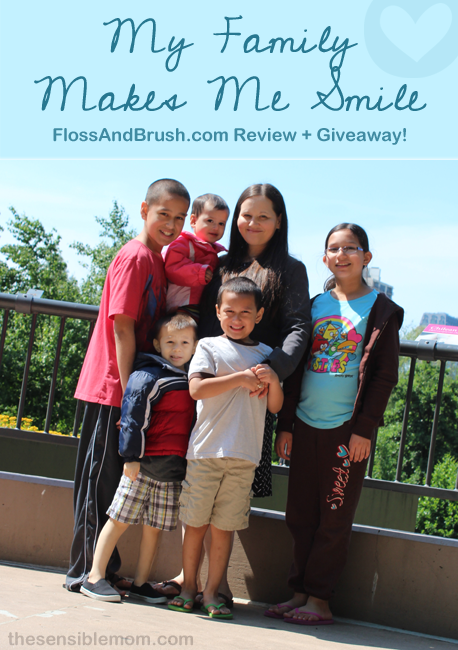 I love my beautiful, wonderful, crazy, goofy (at times) family.
They make me smile, because even though the seven of us are far from perfect…we are a family. We each have our own individual personalities that make us who we are and while sometimes that makes life crazy, a lot of times that makes life more fun. It certainly makes life more interesting!
This picture is a great representation of what I'm talking about, and it makes me smile.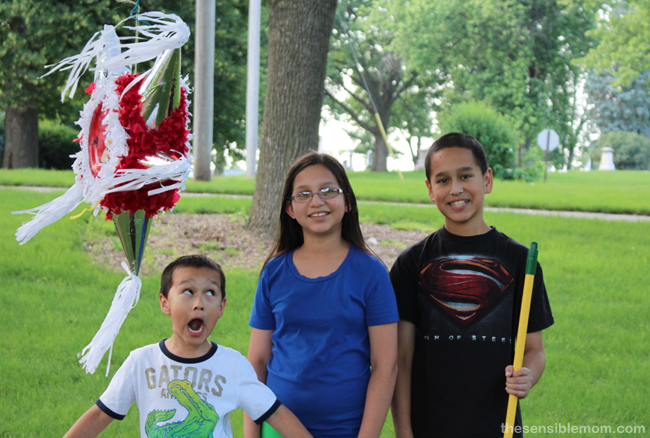 We were at a park about to break open a pinata for Nathan's birthday. I decided to snap a picture beforehand, and Isaac, my 6-year-old, let his personality shine through. He was bursting with excitement over finally getting to tear into that pinata. After some procrastination on my part, we were in reality breaking the pinata a whole month after Nathan actually turned 13. 😉
There were lots of smiles all around after the pinata was broken into and fun-size chocolates spilled out onto the floor.
FlossAndBrush.com
One way my family has been keeping our smiles looking great is with a super convenient program through FlossAndBrush.com.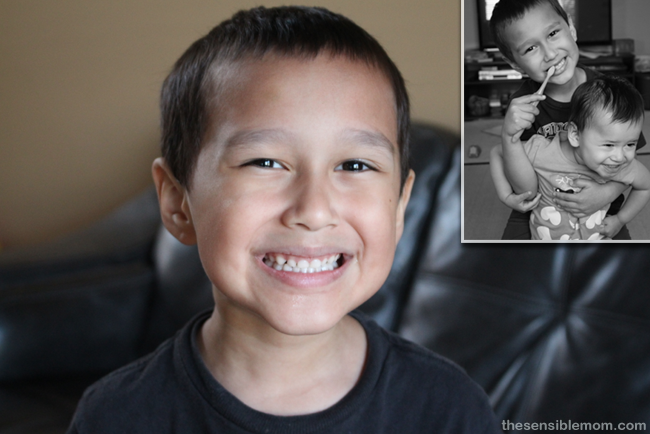 FlossAndBrush.com is a helpful, time-saving program, because it makes it easy to always have new toothbrushes every three months. How? By paying just $1.00 per month, per person in your family, FlossAndBrush.com will ship a box of fresh, quality toothbrushes and floss to your home – one for each member of your family.
DID YOU KNOW?  The American Dental Association recommends replacing your toothbrush every three months.
FlossAndBrush.com's toothbrushes are top quality, age-specific, and dentist approved. I love that the package of toothbrushes we received had some that were just the right size for kids. It's not a one-size-fits-all service. They take care to send toothbrushes that work well for both the kids and adults in your family.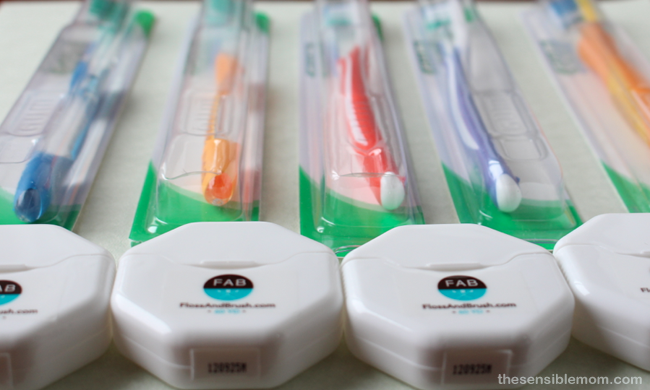 Now for the GIVEAWAY!
One very excited reader will win the following:
1 Free Annual FAB Membership (Every three months, a new toothbrush and 3 month supply of floss will be delivered to the winner's home.)
1 Free Annual FAB + White4Life Membership (This includes not only a toothbrush and floss every three months, but each shipment will also include FAB's professional grade whitening to be used in custom whitening trays. The trays are not included.)
Simply enter this giveaway using the Rafflecopter below. I've included options for extra entries, too!
This giveaway will run from July 15th-July 21st at 12:00am. The giveaway is open to US Residents only, ages 18 years old and above. The winner will be randomly chosen. I will promptly send the winner an email notifying them that they've won, and the winner must respond within 48hrs. of the giveaway's end, otherwise I will have to draw a new winner.
Enter below!
a Rafflecopter giveaway

Want to stay current with FlossAndBrush.com? Then be sure to follow them on Twitter and Facebook for their latest updates.