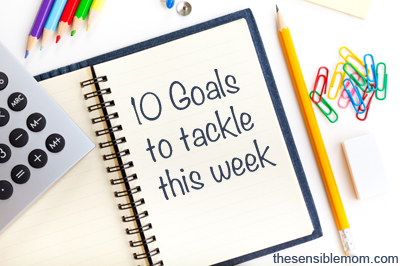 I haven't written a post to share my goals since the end of July. And I almost laughed out loud this morning as I got ready for the day and the thought crossed my mind that maybe I should write a goals post today.
Life has been so unpredictable lately that it's taking its toll on my mental state. I'm feeling sad and depressed and like I just can't handle things right now. And at the same time, I know that I have to keep living life and moving forward. I have to keep being a wife and mom. I have to write and return emails.
I think it's just the events of last week that brought me to this point. On Monday, what I thought would be a somewhat short doctor's appointment for David ended up in him needing a platelet transfusion and us getting home around 7:00pm. We'd left the house around 9:30am. On Tuesday night, David had a fever that resulted in a hospital stay. We were able to leave the hospital on Thursday afternoon. But then David wasn't himself on Saturday or Sunday, so after a call to his doctor on Sunday morning, I took him to the emergency room.
I suspected that David needed blood. His skin has been looking yellowish, and he's been cranky, tired, and irritable. In the emergency room, they drew blood and found that David's levels are borderline needing transfusions. His hemoglobin was 8.2 (he gets transfused when it goes below 8.0), and his platelets were at 24 (he gets transfused when his platelets go below 20). Because David was borderline, he wasn't given any transfusions, and we went back home.
David woke up screaming and crying in an unpleasant mood this morning, but I'm thankful that Ruben was home to help today. We'll watch him for the rest of the day and see how he's doing before I call the doctor again or they call me, because they're going to call at some point today to check on David.
All that to say, I can't take this anymore I'm tired of this…for David and for all of us.
But I'm reminded of God's grace. It's sufficient, so we'll keep moving forward trusting Him along this life's broken road.
Setting Goals
I think it would also be helpful for me to set goals for this week (which will involve another hospital stay for David – a planned 4 day stay this time). I think setting goals may help me to focus on something that needs to be done when I'm feeling discouraged.
So, here are my goals for this week:
Family/Mothering Goals:
1. Pack a bag for David's upcoming hospital stay and be sure to pack large books to take along, too. I use the books to act as a barrier and distraction for when David's getting a shot or an IV put in. I saw this done by one of the Child Life specialists at a hospital in Florida and thought it was a genius way to help distract kids during a blood draw and/or IV insertion.
2. Set up childcare
Personal Goals:
3. Take a little time away for myself
4. Read 10 pages of the book Desperate (I had completely stopped reading this book and just picked it up again on Sunday. I want to try to finish it soon.)
5. Eat healthy
Home Management Goals:
6. De-clutter my desk area (which is a magnet area for toys)
7. Wipe down door handles with disinfectant wipes
Business Goals:
8. Get caught up on work
9. Return emails
10. Write 4 blog posts
What are your goals for this week?