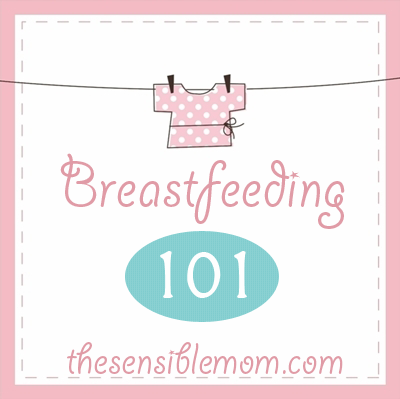 Note from Sandra: I've long wanted to talk about the subject of breastfeeding here on The Sensible Mom. I've experienced lots of bumps in the road when it came to nursing my own children, and I've learned so much along the way. I want to share what I've learned with you, but time isn't on my side right now. 😉 So, my awesome assistant Rachel is going to be writing these posts and sharing from her own personal experience. I'm hoping to join in and write posts on this subject at a later time.

I hope you're able to glean helpful tips as we share.
Preparing to Breastfeed Your Baby
Before I had my first child I thought breastfeeding was a natural way to feed my baby, and I would instinctively know how to do it when the time came. However, once my daughter arrived, I was pretty clueless as to how to feed her. The first few days were a blur of learning different nursing positions, how to be confident that I was providing enough milk for my baby girl, and what modern day nursing accessories would be beneficial.
If I had it to do over, I would have liked to have been better prepared. So, today I am sharing with you my 7 tips for preparing to breastfeed your baby!
1. First, No Pressure. You do not have to breastfeed to be a good mom. If you are unsure if you want to breastfeed or use formula, do your research on both. I chose to breastfeed because of the health benefits for my baby and the fact that it fit better into our budget!
2. Find a Lactation Consultant. The first few days and weeks after your baby's birth are critical to your breastfeeding success. Talk to an IBCLC (International Board Certified Lactation Consultant) for helpful tips and to establish a relationship with them prior to baby's arrival. You may be calling them often in the beginning of your breastfeeding journey! To begin your search, go to this Find A Lactation Consultant Directory.
3. Join a Local La Leche League (LLL) Group. There is a wealth of breastfeeding knowledge to be found in a LLL group. Many LLL group leaders are IBCLC certified. Also, the nursing mothers you come in contact with at these meetings will provide you with a great community of breastfeeding support. I recommend attending a meeting even while you're still pregnant. Locate your closest LLL group here.
4. Attend a Breastfeeding Class. Take a course on the subject of breastfeeding to get an overview of what you might expect. Learning about a good latch, different nursing positions for you and your baby, and how to tell if your baby is "getting enough" – are all very common concerns for first time nursing moms. There are a variety of places to look for a class, but I would start with contacting your local hospital, birth center or LLL group.
5. Nursing Bras and Nursing Pads. Nursing bras create easy access to the "goods", while the pads help keep you dry. In between feedings you will be leaking excess milk while your body evens out your milk production.
6. Burp Rags. These are helpful not only for catching your baby's spit up but also for wiping up the drips you get when changing nursing positions.
7. Breast Cream. After the birth of my daughter, my midwife gave me a sample of breast cream. I didn't think much of the gesture at the time. How painful could this possibly be? It didn't take long for me to send my husband out to the store to buy more. My favorite creams were Lansinoh, Mother Love and Coconut Oil (found with the cooking oils in your grocery store).
There you have it! The preparations I wished I had taken before I started breastfeeding. What are some of the concerns you might have about preparing to breastfeed?